A little splotch of history to chew on, so to speak:
Wrigley Field was a ball park in Los Angeles back in the day, for over 30 years.  In fact, the Los Angeles Angels played there when they were in the Pacific Coast League.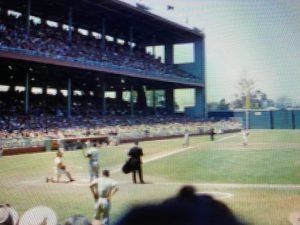 Of interest is that the park was designed by none other than Zachary Taylor David, who designed the Wrigley Field you may be thinking of in Chicago, and also Comiskey Park where the White Sox held court.
This ball park in Los Angeles was called Wrigley's Million Dollar Palace.  It was built in 1925 in South Los Angeles, and. yes, it was named after William Wrigley, Jr., he of great chewing game fame. The park was built to resemble Spanish style architecture, and was a bit of a scaled back version of the Chicago ballpark (which, incidentally, was known then as Cubs Park). 
Oh, at the time Mr. Wrigley, Jr., also owned Santa Castalina Island, and the Cubbies held their spring training in the town of Avalon there.
Note to self – invent a popular gum!
Wrigley Field (L.A.) was kind of cozy, and provided equal opportunity for right handed and left handed hitters.  Did you know the tv show Home Run Derby took place in this park??
Not only did the Angels play there but so too another PCL team, the Hollywood Stars.
One Angel player of some note you may have heard of is Tommy Lasorda.
Finally, in 1957 the Dodgers bought Wrigley Field, as as well as the Angels and their territorial rights, and Wrigley's minor league baseball days came to an end when the Brooklyn dodgers came out West.
I should mention though, as you chew on this bit of history (yeah yeah, I say "chew" because Wrigley is the gum guy…), there were six world title boxing matches at Wrigley Field, including the Joe Louis-Jack Roper fight.
So now you know. And, yes, spring training is coming soon… so we can focus back on the present in just a little bit. Oh the things we do in the off season!