Ok, so maybe it is too sappy. Maybe. But this is the first time in a year and a half my "game buddy" and I have gone to the stadium. We used to go regularly. Year and a half. Think of all that has happened in that time.
Last night.
Dodger Stadium.
We managed to get there early, the crowd is limited, it was quiet, serene, they were prepping the field. As we walked to the seats and as we sat down, that feeling returned. I would describe it like having become a very dry rock bed, arid, harsh… and then, after the rains, after a lot of weather, a lot of down pour, when the sun breaks through, the sun is shining… once again you are a river. You are once again flowing. And you have life, literally.
Well, not sure how to describe it.
A feeling of being at home, or by a hearth, or in a place of worship, perhaps. A reverence? A sense of belonging?
Whatever it would best be described, I felt it, throughout the game, as I walked to get some food, as my buddy and I walked the stadium, as I heard the chatter, saw the folks, the kids, the merchandise, the banners, the lights, smells, the sounds.
The noise.
It came back — I guess it was always there but, well, it has been quite awhile. That feeling the world is out there — fine — let the world turn and turn. I am inside, I am in the ball park. Catch up with you all later!
Home.
That's the simplest way to put it. God damn, I am back home.
And as if on cue it got even prettier to look at, as the game went on.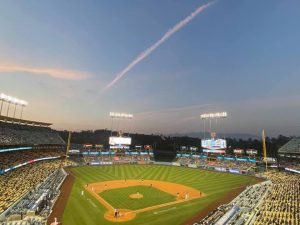 We returned to our lives after the game, driving into the night. That also looked really beautiful.
I'll be damned.
It is coming back, it really is… from a major, terrible freeze. A dastardly winter.
The thaw is happening folks.
Thank God.
It is back – whatever that is – the ball park, the game, that place.