I have a great bobblehead collection, and am proud of it.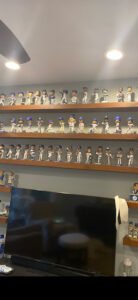 Last night the Dodgers had Freddy Freeman bobblehead night. Took off early, battled the notorious traffic, parking challenges, and walked eagerly to the park.
"I am so sorry, sir, but we have no more bobbleheads. Big crowd tonight, big, big crowd!"
The first 40,000 were to get a bobblehead. I believe at other entrances there were bobbleheads, at least at some, and I was certainly among the first 40,000, but no bobblehead for me.
No relief pitcher would come in for "the save".
Went sourly with my buddy to our seats, sat down and got situated. In front of us was a family — mom, daughter, son, dad. Nice night, park was getting crowded, but I
could see from the seating that we were indeed among the first 40,000, and it started to bother me. It started to bother me… a lot.
"This is not fair. I came tonight in part to get the Freeman bobblehead. Why didn't they have enough at that entrance? Then I went to another entrance and because that is not where I
entered I could not get the bobblehead. I will take this up with fan services… This stinks. This is no way to treat a fan!"
I went on and on from there. I complained (ok, ok, I whined). My friend nodded (kind of like a bobblehead, yes), since he did not get one either. We were both bummed.
Around the second inning the mom in front of me turned and said "I want you to have this bobblehead…"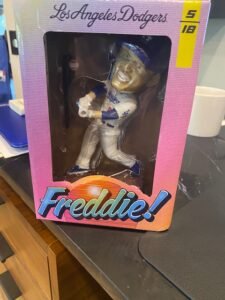 "My son and daughter have theirs, please take this, it's fine, you want it, you should have it!"
I was caught off guard. I also got a tear in my eye.
Let me just sum it up, and move on to the next inning, as it were:
There are kindnesses, some arguably not so big, some just gestures, some very meaningful, some you just do not have the right words to describe. She had no idea of the bobblehead collection I have, or how much I wanted the Freddy Freeman bobblehead. She does not know me, still does not know my name, nor I hers, but she had no hesitation.
Baseball has many stories, many attributes, from fan to field, from field to dug out, from dug out to off-the-field. Baseball also has a lot of kindnesses associated with it. Generosity and
baseball are not unfamiliar with each other, to be sure.
I told this stranger I would write about her kindness. She blinked and smiled. Her interest was in her family, the ball game, and (I think) that if it got that crabby older guy to be happy, that was all
that really mattered. Give him her bobblehead.
She reminded me to do unto others.
She is a battery mate, in a way.
Her kindness is so appreciated.
All in a brief moment at the crowded park on a Wednesday evening. Do unto others. I look forward to honoring her in this way.