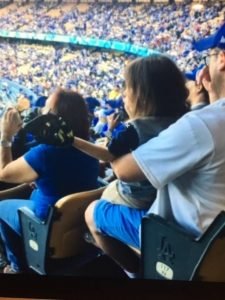 Took the photo you see here at the ball game the other night. Father and daughter, too cute I gotta say.
Then learned about a young girl who is gaining quite a reputation as she sings the National Anthem at various sporting events.
When I saw her on tv this morning, she also did a little piece from "It's a Man's World", which goes: "It's a man's world, but it wouldn't be nuthin, nuthing, without a woman or a girl…"
Amen.
Here's a link that briefly tells her story and shows her chops.  A lot of thoughts come to mind, one being Play Ball!  Another being that some times (I would say quite often) baseball brings out our best.  Maybe it really still is the National Past Time.  You could sure convince me.