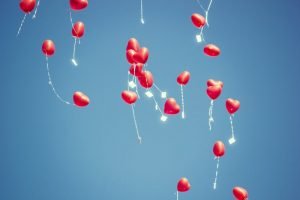 Friday afternoon traffic in Los Angeles… if you like crawling you are in for a real treat.  By the same token, many are getting off work and looking forward to the weekend.
Where is everyone going?  In our cars, so often just one to a vehicle.
Dodger Stadium was our destination, sometimes referred to as "Blue Heaven on Earth".  The National Past Time, baseball…  But, I want to make a pitch to you, no pun intended.  Baseball has become more, even at a time when there is criticism of games taking too long, players being spoiled, everything costs too much, attendance down, tv ratings on the wane.  I want to make a pitch to you.  Baseball is the National Heart Time.
Before the game, Friday July 18, six military veterans tossed out a ceremonial first pitch.  I peered at them through binoculars.  Young men, diversity, each waving to the crowd, each smiling.  One had a prosthetic arm, one had no legs from a little bit below the thighs.  Each proud, each made us proud.  Each got us standing, applauding, hooting for them.  It made me shudder a bit, so recently complaining about rush hour traffic.  God only knows what they saw, what they experienced when they served, and yet here they are, full of vigor, back from the ravages. It was just such a moment.  I thought time stopped, even briefly.  The stadium became completely silent, except I heard the collective heartbeat of our nation.
After the game we were treated to a fireworks display celebrating the 50 year anniversary of the moon landing.  There were videos of it, and before the fireworks we had a picture of the night's colorful moon on the scoreboard.  Many fans poured onto the field.  You know, the baseball field, where the game had just been played.  But, no one was thinking about baseball then.  I don't think anyone was thinking about baseball when we watched those young men… I think most if not all had a lot of gratitude for this experience, in the cool night air, at the park.
What does it say to us?
(Click the link below, which quickly downloads and enjoy the sight and sound).
Well, I hope you don't mind. I want to make a pitch:  Baseball is not just the National Past Time.  Ok, maybe it no longer even is the National Past Time. Baseball is now the National Heart Time.  And rightfully so.  Baseball is eminently full of history, stories, characters, lore, myth and reverence.  It goes well with pride and imagination, with spirit, with the wonder of life itself.  Baseball clearly is not about peanuts and cracker jacks, that's for certain.
Take me out to the ball game… take me out to the dream.  I have seen and heard it with my own tired eyes.  That's what I think when I now hear Play Ball!