Stamina – the ability to endure, to keep going, to get a second maybe even a third wind.
Nolan Ryan once threw 235 pitches in a game for the then-California Angels.  It was not all that long ago, 1974.  That was early in his career, and he went on to pitch for 27 seasons.  When he hung 'em up at age 47, his average per game that year was 127 pitches, with a highest pitch count of 164.
His quote unquote secret?  He did not overthrow, and he stayed in good shape.
Cy Young, after whom an iconic award is named which is given to the pitcher considered most accomplished that season in each league, won a staggering  511 games in a career that spanned over twenty years.  Did the manager worry if he was up to 20 or more pitches in any given inning?  Is anyone every going to win 300 games again?  If so he better pitch into this 50s the way things are going…
My pitch:  How about letting them play ball?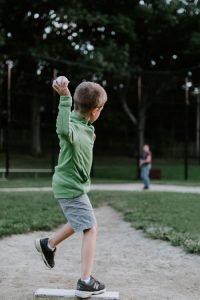 They're still kids in many respects.
Let them pitch complete games.  The heck with this bull pen, set up guy, analyze the numbers, metrics, pampering of the athletes.  They come to play!  And fans come to watch and enjoy and marvel…
Do you know that in 2016, Dave Roberts the popular Dodger manager, took out Rich Hill after he pitched 7 PERFECT innings, supposedly to rest Hill's arm and his hand, which MIGHT blister?  It is June 2019 just 3 years later. Hill is out for at least 4 weeks with a sore arm.  You think Roberts could have let him continue trying to get the rare perfecto?  I mean…  are you kidding me? He took him out?
You know and I know:  There are very few complete games anymore.  But:  Arms are strong.  That's why they call them ARMS!
True, baseball has evolved.  So has my stomach; it's a lot bigger than it used to be.  Ok, I have to work on that.  I have to reverse the trend…   Baseball was pretty damn good the way it was, with 3 man rotations, and a trusty reliever, not an orchestrated script conducted by a guy who is not even on the field, who does not play, and who does not have to buy a ticket to be there.  Fans count.  The game can be tinkered with, and rightfully so.  But, 100 pitches is about as far as most pitchers are allowed to go nowadays?  Say what?!
With the  advances in training, progress in medical treatments, a wealth of data and resources available to baseball teams and players alike, can't we have some pitchers who stay in over the course of a game, if it is going well?  Do we have to accept 5 man rotations?  What's next, a rest period after four innings?  Multiple relief pitcher games?
One of the great feats in modern day post-season ball, Madison Bumgarner, the 2014  World Series.  He pitched a ton.  He was the MVP of the Series.  He still looks pretty damn strong to me.
So, this is my pitch:  Let 'em play, which means, let 'em pitch, which means keep him in the game unless he is falling apart.  That's what he's paid for, and you are not a baby sitter, coach.
If you disagree with me,  I just ask that you be nice about it.  In turn, I promise not to plunk you.