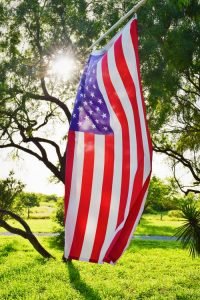 Over 200 years ago, a gentleman named Francis Scott Key wrote a poem "The Defence of Fort McHenry".  We know it today as the Star Spangled Banner.
In time a bit of a joke has arisen:  "What are the last two words of the National Anthem?"
"Play Ball!"
History says the Star Spangled Banner was heard at baseball games as far back as 1862, but it really became a tradition with the first world war, at the opening of the 1918 World Series between the Boston Red Sox and the Chicago Cubs.  In fact, during the seventh inning stretch the band played and the New York Times reported:  "A great volume of melody rolled across the field".  Boston's third baseman, Fred Thomas, on furlough from active duty for the series, stood saluting. Others put their hands on their hearts.
Over the ensuing years, the Star Spangled Banner was played mostly on holiday games, until World War II when it became a custom.
Our National Anthem and our National Past Time.  Hand in hand — like bat and glove, ball and mitt.
Recently we have this very touching rendition. Play ball indeed.  Our National Past Time.  Our National Anthem.  Pride in both!