It's just baseball.  A game.  Not life or death, by any means.
Why then does it bring tears, at times?
Just last year a possibly washed up major league player, who was sitting at home thinking his career may be done, was still being pushed by his dad to keep at it.  His name? Max Muncy who got picked up by the Los Angeles Dodgers, one of the premier baseball franchises. Max had a good spring, but began last year in the minors. It was by happenstance (an injury to a player) that he even got called up.  Max would hit 35 home runs, get onto the All Star team, and hit quite a few balls into the stands as part of the home run derby.
27 years of age at the time. Living at home. Now Max Muncy has had his own bobble head night at Dodger Stadium. In fact, the ceremonial first pitch was thrown to him by his dad. There was great resonance for so many of us. The feeling that a phoenix rose seemingly from the ashes.  A tear in the eye, but a tear of joy. This video helps to capture it:
https://www.mlb.com/video/muncy-s-bobblehead-day
Yet, later that same night, I saw this image posted on line: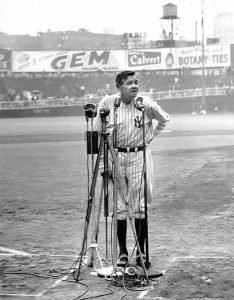 Babe Ruth, a behemoth.  Loud, garrulous, reckless, larger-than-life.  The greatest perhaps of all time.  A big person, literally.  And what does this image signify? The wear and tear of mortality. Poignant, memorable, and quite a different tear in the eye.
Baseball is just a game, they say.  Well,  not for baseball fans.  It has many aspects of life itself.  Baseball reminds us to never give up, to play ball,  to appreciate our time as much as we can, and to try with all the damn vigor you can muster.
Baseball is a story book always in the making.  A candle that must never go out.