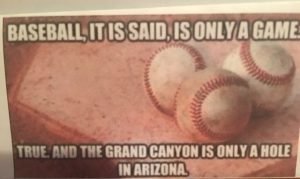 With the season on the horizon, some of us have donned boxing gloves (ok, not really, baseball mitts), but we're ready.  We are REDDDDDDD DEEEEEEEEE!!!!!!!!
Just in case anyone asks what's such a big deal about baseball, that slow, yawner, boring game where players scratch openly, spit, make way too much money whatever what evahhhhhhh…
This is the attitude right there in that image above.
Consider me the Ump, and my decision was upheld on Replay!
Play ball every body!!!!