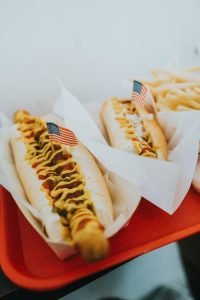 Look, if you've been buried in snow.  Or work.  Or, well, you just miss the "crack of the bat".  Whatever it is, you see opening day of the baseball season almost at hand and you long to be there.  Maybe you play hooky from work.  Last year, 2018, were it not for some weather, every team was playing on opening day.  There are quite a few who think opening day should be a National Holiday, and this ranges from Vin Scully to Noah Syndergaard. You can find that on line!
Baseball is part of our National DNA.  It is as American as apple pie.  The phrase "American's past time" came about because soldiers during the Civil War passed time playing baseball…  Americans did not stop playing during the world wars.  In fact, baseball helped get us through the Depression, and even heal a bit after 9/11.
Let's not forget the bonding. Father son.  Mother son.  Daughter dad.  Daughter mom. Daughter son mom dad.  Grandpa.  Grandma. Aunt.  Uncle. Friends.  Buddies.  We break bread and give thanks in November.  To be sure we salute our Veterans in May.  We even pause for a day about workers as summer transitions to Fall.
On opening day, we say good bye to winter. We are welcoming Spring.  We are standing to salute as the National Anthem is sung.  We will sway with arms around each other during the seventh inning stretch.
What's not to recommend a national holiday? It is  the beginning of a new beginning — I know how corny that sounds but it is the starting gate.  Yes I am on a soap box here…
You need more?
Presidents throw out first balls.  Kids run the bases.  John F. Kennedy no less had an Undersecretary of Baseball during his Administration!
Babe Ruth. Jackie Mitchell.  Branch Rickey.  Mone' Davis.  Frank Robinson.  Shotei Otani.    You have icons of all kinds.  You have immigrants and diversity on the teams.  You have international reach.  Baseball is a great American export.  One our greatest!  It is a national treasure.
Come on… you still need more?
How about just having a nice day off to take a little time to swoon about the diamond, the playing field, the camaraderie? There are ten actual Federal holidays.  To be certain, there is not per se a "national holiday".  Congress alone has the Constitutional authority to create a holiday, which is for Federal institutions; but, most of the holidays are observed as state holidays of course…
And so my friends, fellow citizens, baseball fans, sports affecionados, boys and girls…  the time has come yet again to petition Congress.  Let's do this thing!  Opening day – a National holiday – now!