According to Wikipedia "A baseball card is a type of trading card relating to baseball, usually printed on cardboard, silk or plastic."
Wait a second… silk?
Let me ask: Do you mean a baseball card, like on your birthday you open it and it reads:  "Have a home run!"  Or,  something goes well and you get a card, "Congratulations, you crossed home plate!"
Those  and other slogans might be pretty popular, but to be certain we are talking here about a phenomenon that has been around since the 1860s. Baseball cards arose with the increasing popularity of photography.  And indeed, folks are still like looking at them today.
Clearly, baseball cards definitely are not pokemon, pet rocks, or beanie babies.  They have grown up with the game, had their peaks and valleys, and have come with tobacco and gum, among other items.  Some from the "golden age of baseball cards" (1909 through 1915) sell for over $500,000. This was when the Government broke-up the American Tobacco Company monopoly.  Smaller, independent companies produced some of the great cards of all time, including the T205 White Borders which were sold in brands of cigarettes. One of these is the renown T205 Honus Wagner.  Research indicates only about 50 of these cards are now even in existence.
Well, then, and just so you know:  My mom, bless her heart, threw out my entire collection while I was away in college! 
Yes, I am one of those…  Hundreds of baseball cards that were in a cardboard box in my room at home. In that box was a 1957 Hank Aaron, which I can still visualize, and a beautiful card showing  the miraculous Willie May's over-the-shoulder catch.
"Mom, where are my baseball cards?  You whaaaaaaaaaaaaaaaaaaaaaat?!?!?!?!?!?!?!"
There must be a phrase when a mom throws out your baseball cards.  It is a syndrome, isn't it? I am still weeping.  Why throw them out?  Were they bothering anyone?  Did they cause too much clutter?  Did they talk too loud?  I mean, mom, what were you thinking?!
Sigh…  Huge sigh…   If you go on line there are a lot of links about this phenomena, of the mother donating your cards to posterity. There's even a tee shirt you can buy.  I'll take 3…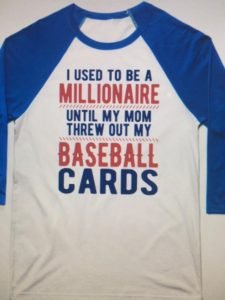 Let it go?  Really?  Just, hey, poof!  Let it go?
Ok, ok…  Love mom, but did you know in 1968, when Topps dominated baseball cards, they tried a test-issue of a 3D card?
I think I know how gum got into the mix – you want to chew while you're looking at the picture and studying the information on the back, and the gum isn't as yucky as the tobacco.
Hey, anyone got the Mickey Mantle rookie card from 1952?  That would be a Topps card, but the actual Mantle rookie card was produced by Bowman in 1951.
And, so you know: There are price guides (Beckett being very well known). There are even professional baseball card authenticators, if you want to be sure that card is what they say it is…
Like the game itself, baseball cards have a real history.  It all starts with  picking up a stick, whacking the ball, making the catch, throwing the pitch…  Games played in front of crowds.  Interest piques.  A lot chatter. Next thing you know the entrepreneurial spirit kicks in and products  are being promoted with these cards.  Baseball cards indeed are part of the milieu of our national past time.
But: Don't leave them in a cardboard box at home when you take off for college. Whatever you do: Hide them, hide them from mom! Hide them really well!