Field manager.  Not General Manager.  The one in the dug out, who saunters onto the field at times.  Does things behind the scenes.  Figures out who is playing, and at what position, and who pitches to whom and for how long.
Walks the line-up card to the Umps, most of the time.
Takes a lot of heat when things don't go so well, and even more heat when he makes a really dumb decision that no idiot would make except this particular fool, who for the moment is managing this great team and completely screwing up… completely!
But, there are a lot of variables.  These include:  Young team.  Veteran team.  Budgetary restraints.  An abundance of cash.  Small market team. Marquis team, big city, oh baby oh baby….  Them Dodgers in Los Angeles with well over 3 million in attendance every year. Every year!  Six times in a row in the post season – but one of the managers during this run was fired.
What about them 1920s Yankees? Dom-min-nant!  There was this little guy named Miller Huggins, who was the manager then. Do you think he had a lot to do with it?  Even a tiny bit?  Virtually nothing?  It was the players, not the least of which was George Herman Ruth?  Miller Huggins, not one of the greatest managers of all time?  With that record?  Really!?!?!?!?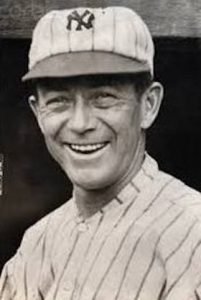 Actually you have a lot of managers that seem to deserve genuine kudos associated with them Yankees: Joe McCarthy with the 1936 to 1943 Yankees… Oh, and what's his name… um…. oh yeah…  Casey Stengel with the Yankees in the 1950s!  But, you know, Joe Torre also did well with the Yankees from 1996 to 2003.
Earl Weaver… Walter Alston…. Bobby Cox… Sparky Anderson…   Tony La Russa….  This is not exhaustive by any means.  These are among the names that often come up on top ten lists of the greatest baseball managers so far…  Who would you say is in your top ten?
What makes a good manager?
Drum roll please…
My opinion:  It ain't rocket science.  In fact the more I see the calculating, analyzing, numerical figuring, stats, data, speed guns, charts, figuring the odds, cerebral explosions…. the more I gag.  I say:  The best manager has a superb gut sense, intuition, strength, resolve, and the ability to inspire.  He can be gracious and still firm.  He can set the table, make everyone eat a reasonable meal, but perhaps not as much food to go around evenly, and still manage to keep everyone engaged.  He picks em, he annoints em…  he is like a conductor.  Someone else may have written the great music, but he brings it all together like a wondrous and melodious symphony.
So that's it.
Any questions?
Yes, I am ready to manage when the team calls.  So far the phone isn't ringing, but hey… Patience patience patience!