"Do not go gentle into that good night,
Old age should burn and rave at close of day;
Rage, rage against the dying of the light."
So said the poet Dylan Thomas.
Well ok.  There's also:
"You know the night time, is the right time to be with the one you love…"  Ray Charles sang that, or a version of it, as I recall.
"Good night sweetheart, see you in the morning…"  My mom, and maybe yours also, sang that one.
Night.  That's when the day has drifted into and under a blanket.  Stars that we do not see with all that daylight make their presence quite well known.
Absent light, it's dark.  Hard to see, unless you have some special kind of goggles, which most of us do not. Night time…  Mysterious.  Impenetrable.  Brooding.
In 1880, a group of Boston department store employees made history (kind of sort of) at night, and "under the lights".  It was a baseball game, and whoever won got bragging rights and even a bit of money.  Three towers, each with 12 electric arc lamp, supplied the light of 90,000 candles.  So it was akin to mid day.  Little did they know they just had made history. As is so often the case, adversity generates invention. A solution must be found, and so it is.
J.L. "Wilkie" Wilkinson owned a baseball team.  As of 1930, after the stock market crash, and with the Depression spreading like a virus, the Kansas City Monarchs of the Negro league were really hurting.  A good team, a winning team, but day games were difficult if not impossible for working fans to attend. To compound things, the Monarchs were part of the Negro National League so they did not even have their own stadium. Wilkinson would not be defeated – he lowered seat prices from $1.10 to $.75, and cut in half the price of tickets for women on Ladies Night.  Then, Wilkie got really really desperate albeit with the belief he could make it happen, he could turn fortune around…  So he mortgaged most everything he owned to play baseball AT NIGHT.  Fans were not at work then.  To be sure, this was not entirely novel, but to be sure it was not happening otherwise. The light bulbs invented by Edison did not last long.  Who came to the plate?  A mild manner physicist from General Electric whose name you probably are reading for the first time:  William David Coolidge. He made floodlights possible.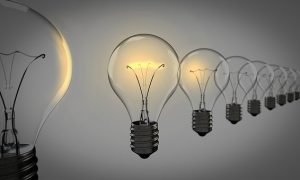 Mr. Wilkinson got the Giant Manufacturing Company of Iowa to construct a portable lighting system.  Six flood lights on telescoping poles standing some 50 feet in the air were placed on flatbed trucks at various points around the field.  The lights could travel, like the Monarchs.  And, you know what folks?  It worked! It worked!  This ushered in a new era, although it was another five years before Major League Baseball had its first official night game.  As to the Monarchs, their attendance which was 5,000 blossomed to 12,000 and upwards to 15,000.
The first major league night game was on May 24, 1935.  The Cincinnati Reds squeaked past the Philadelphia Phillies 2 to 1.  What an ambitious plan they hatched — the Reds would play seven night games each season…  one against each visiting club. Imagine that since today the estimates are that lighting a major league baseball stadium for 81 regular season games takes roughly 30 million kWh of electricity, equal to enough power to light thousands of homes.  In comparison, in 2015 the average residential utility customer needed only 10,812 kWh of electricity. Thankfully LED lights were discovered; they reduce consumption. Today four out of five MLB games are at night.
Looking back, baseball has evolved in many ways. We like the traditions, the way it was done.   We think bats should be a certain size and shape, and the pitcher's mound should stay where it is.  We have concerns, some of us, about the designated hitter, and we are not at all enamored with pitch count, pitch speed, metrics and launch angle.  But, you know what?  If it were not for those who are enterprising, for those who push the envelope, for those who are full of vision and willing to nurture change..  baseball would not have come from the light and into it, even at night.
Baseball is like a sculpture, a work in progress, coming to life before our very eyes.
Baseball at night.  What a concept!  Stars under the stars.  Fans under the stars.  All of it, under the stars, so you can go because work doesn't get in the way.  They even have stadiums that can cover up like a raincoat…
Come on, ain't it grand?