Forlorn: Pitifully sad and abandoned or lonely.   "forlorn figures at bus stops"    Woebegon; doleful.
The definition of forlorn includes figures at bus stops?
Woebegone?  That sounds like the trade name for an anti-depressant.
Well,  have you seen how baseball fans look when their team is eliminated from post season play?
Look away…  Loooook awaaayyy!
Or, if not that dramatic of a loss, then the player strikes out with a runner on third, the tying run, to miss a chance to win. Worse yet, he swung at ball four!
There is a lot to cry about in baseball.  Yes, I know the character played by Tom Hanks, the manager of the Rockford Peaches in A League of Their Own, quite famously protested "There's no crying in baseball…"  In fact it has become an iconic phrase.
The problem?  It ain't true.  Some implore "Say it ain't so, Joe," but it is.  Crying, even despairing, even hand wringing… lots of that in baseball.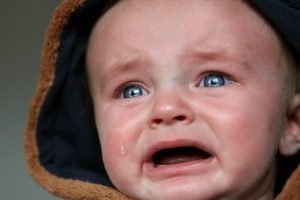 You thought "Oh the humanity!" was uttered by reporter Herb Morrison when the Hindenburg caught fire and fell in tatters to the ground, killing 36 people.  I, on the other hand, am convinced it was an expression meant for Bill Buckner when he  badly booted the ground ball in the 1986  world series, or Ralph Branca in 1951 when he gave up the famous end-of-the-season walk-off home-run-heard-round-the-world to Bobby Thompson, or the Mickey Owens' passed ball in the 1941 world series, opening the door for the Yankees who went on to win.
It is one thing if the bar of soap slips through your fingers in the shower. It is quite another when the ball goes through your legs, or glances off your glove on a routine grounder, or you throw wildly, or you drop the damn thing….  All around you is celebrating — the ecstasy of victory — shadowed across the field by the agony of demoralizing defeat.  Not just a loss, not only one of dem bad luck things.  Not "Ah, we'll get 'em tomorrow…"  Nope.  genuine loss.  Pure and simple, unadulterated no good, stinkin', hurts right here, and it stings so bad, loss.
You ain't comin' back from the situation, any time soon.  It hurts.  It really really hurts.  You don't get plunked by the hard high one.  You get plunked by fate.  Owwwwwwwww!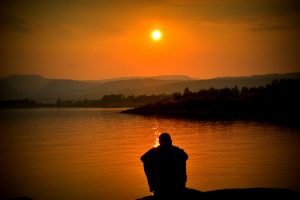 And, when the season ends some baseball stalwarts get a bit forlorn. It's hard to say good bye.  The long season, which starts well before the season itself, and then goes through 162 games (more if you get to the play-offs). You know, if you get to that time when trees begin to turn colors, drop their pretense, shed their leaves, and create quite a mess in any given front or back yard. If you get there.  Most do not.
All those leaves… those are innings past.  They will rise up again. The trees will turn green again.  The fields as well…  And new players will come through the turnstile, but this chapter is over, ended, kaput, in the book, so long, see yah, it was great, it was grand.  Adios!
So many of us at least on occasion think of Lou Gehrig standing like a weary redwood tree but insisting "Today I am the luckiest man on the face of the earth…" The earth itself felt forlorn that day; still does when Lou comes to mind.
I used to play, by the way.  That makes me a tad forlorn since indeed I am no longer that kid, that player, that base stealer, that hitter….  But, I so enjoy watching those who are so good today.  Some of us stay well after the game ends so we can watch the field as it gets cleaned up for tomorrow, watch the lights as they dim, stroll by the vendors whose shops are closing, wave at the police officers on our way to the car, one of the last in the parking lot….  We can see the lights of the city twinkling out there, a world not part of our attention span while in the ball park. Once inside the stadium, you focus on the diamond.  The ball field.  The play. The rituals.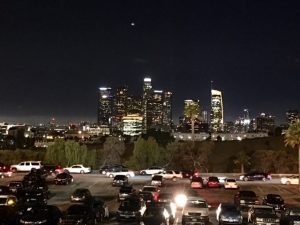 Part of ritual is change from season to season.  It goes like this:  "Son, or daughter… I hand you this bat, as if a baton… Carry it well into the game of life!"
"Try not to be forlorn", she said to me. Her hand on my knee. My father had passed.  He was like a great baseball game.  A complex person. Excitable.  Full of bluster at times, and then like the lights at the stadium, finally dark.
I notice so many parents at the games.  So many children with them.  I escape being forlorn with a beer and chatter, with peanuts and expectation, with a chance to yell for my team.
"A tear?" He asks me:  "What the hell is a tear doing rolling down your cheek?  There's no crying AT the ball game!  None!"
You know, maybe he's right.  Maybe crying should be deemed illegal, at least when you are there, at the ball game.
Call security! Save your crying for when you get home, away from all of those fans who are part of the ineffable family.  Don't let the lights catch you cryin'… that's what Gerry & the Pacemakers really meant, if you know that song from the sixties.
Forlorn.
You know what?  Ban it!  Sadness is bush league!  There's no being forlorn in baseball. That's what Jimmy Dugan really meant to say.
Strike out being forlorn!  Yer outta here!