Whoever said cleanliness is next to godliness did not play baseball.  Or wasn't a kid.  Or a grown up who still thinks like a kid.  In fact, just to be clear about it:  The saying "cleanliness is next to godliness" is not (I repeat not) in the Bible.  It was first recorded in a sermon by ol' John Wesley in 1778, but the idea that keeping the body clean followed from reverence for God, is a proverb so archaic it dates to Babylonian and Hebrew religious tracts.

Well, as far as I can tell there weren't no baseball back then!  Had there been I think they would have inscribed the motto as:  Cleanliness is next to godliness, unless you're sliding safely into a base!
Now that we have that out of the way, let's talk about how the players keep their uniforms clean.  I mean, each game I see nice and tidy outfits.  If there was a grass stain from the game last night, when he dove in center and made that shoe string catch, it is not showing less than 24 hours later. If she slid head first at second, stealing the base… and came up with at least a fair amount of dirt on her chest… nope, not there either.  They must very effectively hang these outside after intensive cleaning… the must!
In the past, teams had home-whites and road-grays because it was tougher to launder clothes while traveling, and the darker color would hide the dirt better.
Of equal if not more import:  Ricky Henderson, the all-time stolen base leader, made it quite clear when he remarked,  "If my uniform doesn't get dirty, I haven't done anything in a baseball game."
Let's think about this, because, indeed, there are so many ways to try to help the team, if you are just get a teeny bit dirty:
1.  The pitcher wants to keep you close to first base, throws a quick pick-off, and you dive back successfully, head first.  Good, good — keep the pitcher busy!  Keep him distracted!
2. Heyyyy, look at you…  Stretching that single into a double – excellent!  Good slide!  Oooh, turning that double into a triple.  And ahhh, baby… a successful squeeze play at the plate. A thing of beauty!  Wonderful hand on the plate, avoid the catcher, awesome, we score!  Whooooops, your back end is now all scuffed, and the front of your uniform got pretty messy when you rolled over… Badges of courage that… Indeed!
3. Not to be outshone, let's remember that utterly remarkable play, diving, stretching to your right to spear the grounder, and throwing from your knees — he's out!  Show that again…  Highlight reel!
I acknowledge that getting dirty may not be a goal you set out to achieve, but, if winning is a goal, if playing with abandon (and skill) is an objective, then getting dirty comes with the turf. Yes, yes, you may quote me.
Still, you ask:  Aren't m
ost major league fields immaculate nowadays? So shouldn't 
uniforms
 follow in kind? After all, the Dodgers at one time went with red soil from Sedona, Arizona, but gave that up because it was too difficult to keep the uniforms clean… So maybe we are not 

talking

 major league so much as everywhere else, or most everywhere else.  Sandlot baseball didn't become extinct you know… you snort at me.  Ok, fine.  Washing machines have not become obsolete!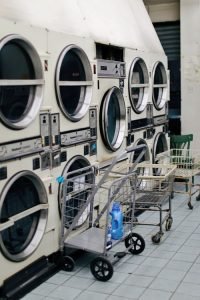 Admittedly, my research is not precise.  I can't be sure this how they do it, but I am reading about a particular, reputedly near-miraculous solution that is used — which comes in two parts — and is an 
industrial strain remover.
  Before it used to take a "brush and flush" method, but no longer.  Bottom line, the dirt includes grass stains, and the general term used is "nature stains", meaning grass, ground-in dirt, and good old blood and sweat.  Grass stains seem to be the most challenging because they have a green dye called chlorophyll. Combine that with some ground-in dirt, you're looking at some unsightly and uncooperative blemishes baby! 
Fact is today, clubs have multiple uniforms.  It is not a matter of being fitted in Spring and you have the same duds come October…  not any more.  What is interesting about this uniform business is that "appearance" is so critical.  I guess a lawyer wants to look really sharp in Court, right?  When you go to work you want to impress, no?  But, we have "casual Fridays" at many work places.  Just how important is it to have pressed, wrinkle free, sparking clothes on when you're working, particularly if they are likely to get dirty pretty quick?
Well, do you know about the "Clubbie"?  I did not… This person has "major league duties", to make sure the lockers are intact and ready for each player; as just a 
smidgen
 of tasks to keep the player intact, to keep the player happy, including hangers, chairs, and other items a player needs so the locker is complete — a mini-home if you will.  And laundry loops — do not forget the laundry loops!  These have the locker number so a player can loop his clothing together which makes it easy to wash and separate the uniform once dried, and then to be worn again.  A "Clubbie".  I want a Clubbie!
There you have it – live and learn.  Get dirty and get washed up.  Next I might try to figure out how the players keep their glove in good shape, since that's part of the uniform too… kinda sorta.  
Bottom line, my view:  Let's get dirty.  I guess we aren't supposed to stay dirty so here you go:  "The getting dirty is the good part…  Getting cleaned-up, eh…"