Nostradamus did not, to my knowledge, predict anything baseball.  Well, then, you know, and I know, this shows his very substantial limitations.
On the other hand, the one, the only, the inimitable Dodgerdamus has predicted, made the declaration, and stated clearly over the worldwide public announce system:
WE HAVE A FUTURE HALL OF FAMER RIGHT HERE.  23 AND UNASSUMING.  MIDWESTERN AND NOT FLASHY.  JUST GREAT.  JUST AWESOME.  JUST FORMIDABLE.  JUST COMPARABLE TO PEDRO MARTINEZ.  LEG KICK.  STRETCH.  THROWS DARTS.  BURNS THE AIR.
WAHHHHHHHHKERRRRRRRRRRRRR
BUUUUUUUUULEEEEEEERRRRRRRRRRR!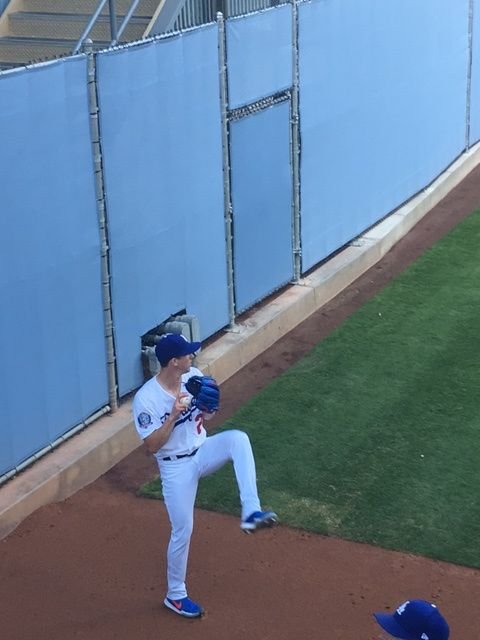 Hold on a second!  Lay down your bat buddy! Calm way down.  Are you completely out of the base path?
This Buehler of yours has pitched in a handful of major league games.  And,  at the time you are writing this, he isn't even pitching.  He's on the proverbial d.l.  Fact is he already had Tommy John surgery.  How long do you think that's going to work, sooth sayer breath?
So it is that I went to the table, turned the metal basket holding all the cards, turned it and turned it, and this is what I found.
11 out of 100, roughly 10.5%, of NCAA senior male baseball players will get drafted by an MLB team.  Walker did go to college (Vanderbilt).  On the other hand, about 1 in 200, that's only 0.5% , of high school senior boys playing interscholastic baseball, will eventually be drafted by an MLB team.
But of those who get drafted, all right, fair question: How many actually get to the majors? Who then actually plays?  And who has any career?
Then of those few — the very very very very few — the choice few, the select few, the few-few, who ever gets into the Hall of Fame?
Am I reading this correctly?  There are a total of just 323 people elected to the Hall of Fame, of which only 226 are former Major League Baseball players.  This is one percent of those who have played baseball in the major leagues.  Willie Mays is a bit of rarity, getting in on the first ballot, but even Sey Hey wasn't unanimous…  Lou Gehrig was an exception because there was no 5-year rule then (today you can be voted on for the Hall only after 5 years from when you stopped playing).
Getting nominated at all is so challenging, and then making it into the Hall even more challenging. Think of threading a needle that gets increasingly miniscule, and you might be holding a rope.
Dude:  A player must be named on 75 percent of the approximately 440 ballots cast by the Baseball Writers of America to be enshrined. If you don't get in within ten years you can be considered by the Eras Committees thereafter but mannnnn…. That and a nickel…
My head is spinning.  This prediction business feel like I have a fungo bat, but have to hit against Nolan Ryan.
Did you know there's even stringent criteria for the Baseball Writers chosen to be deemed eligible voters in the first place?
Here, then, a summary of what is focused upon for a player to have any chance of induction into Cooperstown:
His record,
His ability,
His integrity,
His sportsmanship,
His character, and
His contribution to the game. 
How, then, could I have any clue at all that this kid, Walker, is going to be in the Hall of Fame?  We're talking 15 to 20 or more years from now!  I may be in the Heaven of Fame by then…How do I know he's really that good, not just on the field but off, and will give back, and be exemplary.  How do I know?  How could I have any real clue?
Well… I am telling you my crystal ball has spoken.
In Koufax's first 7 starts he was 3 and 1, pitched 47.1 innings, had a 2.29 era, 32 k's and 26 bbs.  Clayton Kershaw in his first 7 starts was 3 and 4, 33 innings pitched, 4.36 era, 29 ks and 22 bbs.  Ol' Walker first 7 starts 3 and 1, 41 innings pitched, 2.20 era, 48 ks and 8 bbs.
I tell you (wide eyed):  I saw his countenance.  I sat behind the plate.  I watched him even then with binoculars.  Watched his interviews before and since.  Took stock of his upbringing.  Carefully assessed his nature. His intelligence. His compassion.  His youth and his maturity, all at once.  And I saw the stuff he has, the way he throws, what he throws, and his demeanor. There must be circumstances you have experienced yourself where something happens, whether it is something you see, or find or learn about, one way or another something you come to know… when you have this moment of "Waaaaaaaaahhhhtttt? This is extraordinary!  This is far more than just the norm.  This is unique, special, remarkable, and virtually incomparable…"
Saw Sandy Koufax pitch, quite a bit. Even saw Warren Spahn pitch.  Drysdale.  Gibson.  Yes, Pedro Martinez.  Rollie Fingers.  Hoyt Wilhelm. Nolan Ryan.  I saw them, I watched, I looked, listened, focused.  I studied.  I could get a Phd in Pitcherosophy!  And Clayton Kershaw.  Kid K his natural wonderful self. I saw his no hitter.  Walker has a no hitter already – yes, he was taken out in the sixth inning, and several relief pitchers finished it, but still.  He was the main part of it.  Already. A no hitter. First year in the majors.
What's the refrain from the Johnny Cash song:  "I've been everywhere man"?Fields with no lights.  Fields under the lights.  Ball parks, some of whose names I can't remember. Oh, and I've read. I've read a lot. I've watched films, grainy and otherwise.  I've listened to the announcers.  I've watched the boys and girls in the stands.  The parents, the grand parents, the managers, the coaches…. Spring training.  The minors.  I've been there.  I've done that.  I qualify for something. I have sat in stadiums from here to Kalamazoo.  I have watched and lived baseball virtually all of my life.
So, all right then, this still is unbridled, abject foolishness.
I am predicting Walker Buehler is a future Hall of Famer.  He has it,  but no I don't know what "it" is.   But he has it.
God given?
Whatever it is, we get to enjoy it.
He and Cooperstown are sure to join hands.  You read it here, even if you rolled your eyes when you did.