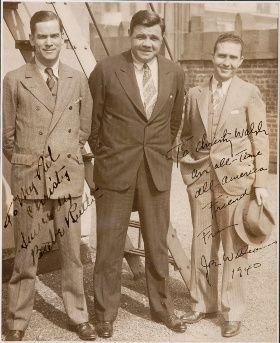 As if Babe Ruth was not in and of himself large enough, charismatic enough, and colorful enough to promote his own self.
As if…..
"Wait a second folks.  Don't forget the help provided by Christy Walsh.  He was huge in the Babe's universe."
"Who?  Christy wah?  Male or female?   Did he play any ball?  Did he ever even hit a single?"
Well, ok….
Christy Walsh apparently is not going to be inducted into Cooperstown.  He is not a name quite at the forefront of the lips of most general managers talking out the numbers, the percentages, the tipping of the scales should we get that set-up guy, or that back-up at second base.  In fact, I doubt hardly anyone today knows the name or gives a hoot about it.  But he is big, was big, had a significant impact on our beloved game of baseball, and it is important to tout him (if I tout so myself).
Here's why:
Christy maneuvered his way into the room where the Babe was staying at the Ansonia Hotel in New York back in the early 1920s.  He pretended to be the bellhop, delivering beer and ice to the Bambino's room.  He couldn't get the big guy's attention otherwise.  Once there… the inner sanctum… he explained his keen idea of making money through ghost writing.
Babe liked it.
Me… I am not sure if people were just so hungry for baseball stories, or the stories increased the hunger, or both.  Christy hired, among others, no less than Ford Frick, Damon Runyon, and Gene Fowler.  Stories went out under Babe's and other player's names that these inspired authors wrote.  Money was made.  Tales were told.  Public relations was born, and let me be clear: In earnest!  The carousing Babe – I hear they're soon going to have a tv series showing the salacious bad boy side of the Sultan of Swat…. possibly soon to be the Sultan of Slut….  But, with Christy the Babe was just a big lug, full of affection, really sweet to kids, a home run hitter in the emotion department, not just in the ball parks. A genuine American hero.
One of Christy's more infamous efforts was to have a bevy of doctors administer tests to Babe Ruth to evaluate if he had any extra physical or psychological advantages.  After all, he hit the ball further than anyone, and he he could pitch too!  The results were published in the Popular Science Monthly, and picked up by the New York Times.  Putting aside the accuracy, what great publicity!
Bottom line: Christy Walsh is your first true sports agent.  He also helped the Babe (along with the second Mrs. Ruth) to actually manage the moolah.  And he got Babe (and some other names you might recognize — Lou Gehrig, Lefty O'Doul, and ever hear of Knute Rockne) — to allow him to enhance their largesse as well, their reputations, their legends. Their mythology.
Exhibitions.  Speeches.  Meet and greets.  Autographing.  Just the right photo. Dignified society. Hobnobbing with politicians.
Christy Walsh was a promoter.  Some would say a self-promoter.  Some would say he was shameless, or to some degree shameful. He lifted up, off the backs of others, some would say.
I would say he was an igniter.  I would describe him as an extremely bright light. He helped further interest in baseball.  He helped take a post card and make it into a bill board.  He was not a folded blanket on your thighs.  He was a biggggg flag excitedly waving in and above the ball park itself.
You know we all see a great deal of promotion today — bobble heads — dedicated nights — fireworks — kiss cams — theme songs for players.  You see a whole lot of promotion.  You may even fall for it.  I do.  I have rarely met a bobblehead I didn't like.
The name Christy Walsh should be more a part of the lore of our wonderful game of baseball.
Honestly, I don't know if baseball is our national past time, but I would say to the extent it is, Christy ought to be a heck of a lot more than just a footnote.  He should be a lot more than "Who?"  And "So what's the big deal?"
There should be an occasional Christy Walsh night at the ball park.  Let the organ play.  Have the crowds sing, stand, gab and applaud after a brief film is shown and his story told. He helped write the script. He had a vision:
You bang the drum, and they shall come….
Ghost writing no less, and so much more. Image creating.  Be it a fairy tale, who wouldn't rather dream than shudder?  They say behind every great man is a great woman.  And very probably vice versa.  Well, there was a time in the golden age of baseball when behind any number of heroes was Christy Walsh.  He helped to lift spirits.  And as he did he helped to lift our game beyond just the field itself.
So, when I get to the big ball park in the sky, I am going to look for Christy.  If I need some help to get around there, to get better known, to have a place and not just a corner in the endless eternal room, Christy will get it done.  I know it.  In fact, maybe I shouldn't have mentioned him at all.  If you don't mind, I call dibs on Christy Walsh!  Go find your own angel when you get there.